Get up to date with Harborough news and events!
Phil Knowles
Leader of Harborough District Council
If you were in Market Harborough during June, we hope you noticed the flags flying for pride month, (image below). The council and businesses have received amazing feedback from residents. Keep an eye out for the union flags for remembrance Sunday later in the year.
Despite a rather damp July so far, there are lots of exciting events taking place over the summer. Look out for local attractions, markets, walking trails, heritage open days, and more!
For young people who are not sure what steps to take following exam results, from 28 July - 18 August 2023, Get Work Ready drop-in sessions are being held each Friday at Broughton Astley Library between 10am and 12 noon to provide careers support.
Alternatively, pop in to speak with professional careers advisors at the Job Club in Lutterworth on Friday 4 August to find guidance, training and job or apprenticesip opportunities.
Everyone is welcome at the Job Club, whether you're interested in rejoing the work place after a break, reaching for your next career move, or looking for a voluntary role to top up your skills set.

Phil
Pride flags on Market Harborough High Street
Play area upgrades across Harborough district
Eight play areas across the Harborough district have been transformed with the installation of new play equipment for children of all ages and abilities.
We delivered a substantial refurbishment programme costing £230k as part of a three-year plan to ensure that local play areas are accessible now and in the future.
Play area improvements were completed by end of June 2023, in advance of the school summer holidays. With some sites having been given a full makeover with others having a partial refit as we work sustainability by using recycled plastic materials and metal instead of wood where possible.
There are lots of super play areas across the district. We hope you enjoy them over the summer holidays!
Love Parks week is 28 July - 6 August 2023. Its an annual campaign celebrating parks, green spaces, and the dedicated volunteers and workers that look after them all year round.
These vibrant, living spaces bring communities together and provide an opportunity to connect with nature in the heart of our towns and neighbourhoods.
Please take the opportunity to send us your photographs of your favourite parks and green spaces in Harborough district! Email: communications@harborough.gov.uk
Wildflowers are blooming in Lutterworth, Broughton Astley and Market Harborough with a varied mix of native species to attract a range of pollinator insects and cretures. We have also prepared the ground for a community wildflower project in Bridgewater Drive, Great Glen, and we are now actively looking for other areas to plant up.
Logan Street play area in Market Harborough
Talented Traders at Harborough Market
Ten young entrepreneurs, aged between 16 and 30, attended the council's first ever Young Traders Market in Market Harborough.
Aimed at attracting new blood and young recruits into the markets industry, the event held on The Square last month, was part of a national campaign with the National Market Traders Federation.

Talented and creative young traders sold bespoke clothing, jewellery, artwork, photography and accessories.
The event was a competition judged by three indoor seasoned traders who were John Steward (JS Menswear), Kris Moore (John Ross Butchers) and Susan Mason (Harborough Market Refills). All the judges were impressed with the level of commitment and skills on show.

The overall winner was Alice Smith of AVMS Art with her hand drawn maps. Alice wins four free trading days at the indoor market and progresses to the regional finals in Wolverhampton on 12 August.

Two highly commended were also awarded to Louis Edwards and Ashleigh Boyce from Heart of Hearts luxury clothing and Elliemae Hodgson of Spirit of She handmade jewellery. They will also go through to the next round in Wolverhampton and we look forward to welcoming them to the indoor market in the near future along with all the traders who attended that day.
Contacting Leicestershire Police
To help Leicestershire Police manage demand on their phone lines and continue answering emergency calls they are promoting the simple message – if it's not an emergency, please 'click before you call'.
The service says 999 emergency call volumes have increased in comparison to last year by up to 40%. This is causing unsustainable levels of demand in the control room.
June 2022 - 15,840 999 calls.
June 2023 - 22,378 999 calls.
Non-emergency 101 call numbers have also increased, though less dramatically, on average around 24,000-28,000 calls per month.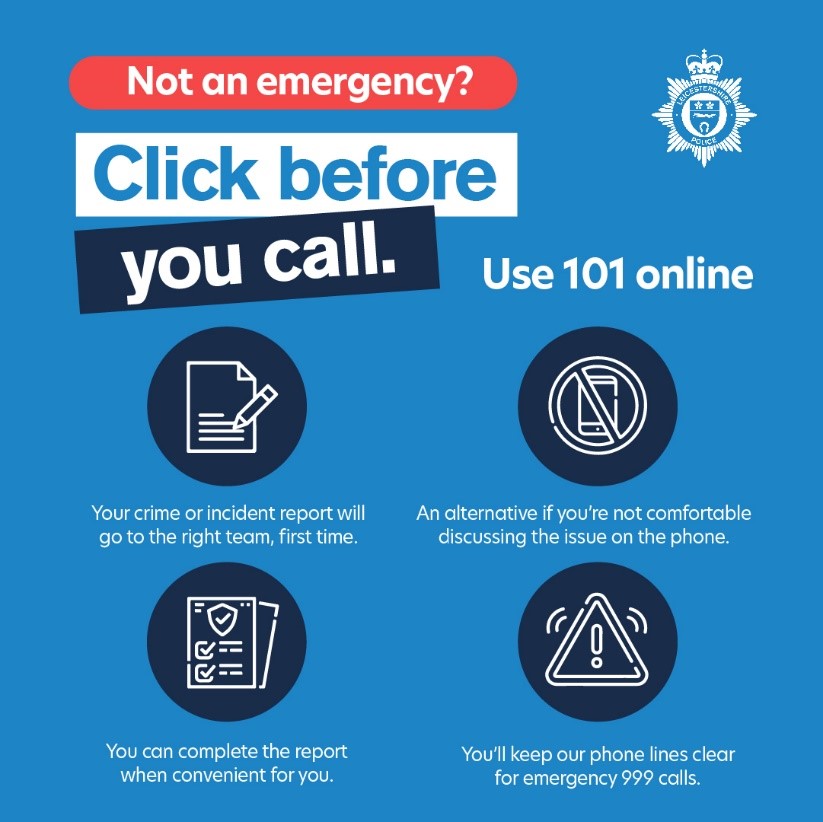 Annual Canvass 2023
Each year our Electoral Services Team must check that the correct people are registered to vote at each address across the district. If you've received an email from us asking you to check that the information we hold is correct, this is genuine.

Please follow the instructions and if you need to respond, its quickest and easiest via email at: harborough@householdresponse.co.uk

If we have sent an email to more than one person in your household, only one person needs to respond.
For properties that we think may have some changes to the household, a form will be posted to you, please respond by using the instructions on the form. Responding online as soon as you receive the form saves money.
Remember you need to be on the register of electors to vote. You may also find it more difficult to obtain credit if you are not on the electoral register. Credit reference agencies use the register of electors to confirm your address.
Classic Car Show brings vistors to town centre
July saw the return of another successful classic car show in Market Harborough.
We supported local company Harborough Live Events to put on a great spectacle which an estimated 20,000 people enjoyed in the town centre with a record 400 classic vehicles on display this year.
Vehicles from lorries to Lambrettas, fire engines to Ferraris and motorbikes to Mercedes took part in the show. There was also a thrilling fly past by a Lancaster bomber and the Red Arrows.
A resident said: "I would like to say a huge thank you for a wonderful classic car show today. Very well organised, you even managed the sunny weather. A great collection of scooters, bikes and cars. The fly past by the Lancaster was amazing too."
Richard Clingo's recently restored 1980 Mini (above) was judged the best car in show.
Career support for all
Are you considering a new job, a career change, or have you just left school or university? Perhaps you're considering returning to work after a long break or would like a voluntary role to gain experience to boost your career.
If you're not sure of your next move and would like some help with reaching your career goals, or even just taking the first step in finding a job, there is plenty of free support available in the Harborough district.
From 28 July - 18 August 2023, Get Work Ready drop-in sessions are being held each Friday at Broughton Astley Library. You can find mentoring support, help to access training and volunteering opportunties, practical job searching support, advice in CV writing and more!
Pop in anytime from 10am - 12pm each Friday.

The next Job Club is on Friday 4 August at The Wycliffe Rooms in Lutterworth. Whatever your employment history, if you've never had a job, or whether you are looking for the next challenge in your career, come along and speak to our friendly, professional careers advisors who will listen to you and can provide practical support and advice. You don't need to make an appointment so please come along anytime between 1pm - 3pm
In the meantime, check out exciting opportunities in the Harborough district. Find local jobs, apprenticeships, training, and support for both employers & job seekers and more!
Citizenship Cup awarded
An outstanding group and individual in the community have been honored by being presented with the prestigious Citizenship Cup.
Harborough District Council Chairman Cllr Barbara Johnson hosted a presentation at The Symington Building on Monday 24 July - in conjunction with the Market Harborough Civic Society - to award the Citizenship Cup to two worthy recipients.
The chairman presented the cup to Ralph Holderness (chairman), Peter Wilford (secretary and acting treasurer) and Colin Sullivan (committee member) on behalf of Market Harborough Movie Makers and Peter Mitchell of the Harborough Cinema (formerly Octagon Films), for services to the community of Market Harborough and elsewhere. (Pictured above)
Market Harborough Movie Makers has successfully produced a library of films for 60 years illustrating the history and recording events in and around Market Harborough for future generations to watch. Sadly, at their AGM in June of this year, they agreed to wind up operations.
Peter Mitchell has been pivotal to the success of Harborough Cinema, since fundraising in the mid-1990s to establish a cinema in the town. Peter has chaired Octagon Films - rebranded as Harborough Cinema in 2023 - since 2002.
The cinema retains its charitable status and is run almost entirely by volunteers and is open to members of the public as well as Harborough Cinema members. To date, Harborough Cinema/Octagon Films has shown 751 films with a total of 42,500 attendances and 316 live broadcasts with 22,160 attendances.

The cup has been looked after by Harborough Museum since 1991 and is part of the displays located on the first floor of The Symington Building in Market Harborough. It was last presented in 2017.
Summer fun for all
Leicester and Leicestershire offers a plethora of scenic walking and cycling trails, allowing outdoor enthusiasts to explore the beautiful landscapes and charming countryside. Whether you prefer leisurely strolls or adrenaline-pumping bike rides, there is something for everyone.
With plenty to choose from, it's time to lace-up your shoes or hop on your bike, and get ready to explore the natural wonders and fantastic sights our region has to offer.
Visitors and locals alike can discover more about local history in Kibworth villages, Lutterworth and Market Harborough, why not follow our range of interesting trail guides, experience the beautiful waterways, enjoy family fun at a range of local attractions and soak up the atmosphere in our historic pubs.
We might have been hoping for more dry days so far this summer but there are still lots of exciting things to entertain and inspire across Harborough district. From independent eateries, boutiques, market events, museums, and food festivals to beautiful wildflower parks and gardens! There's so much to uncover this summer - don't miss out!
Top rating for food hygiene premises
We carry out regular checks on all registered food premises across the Harborough district.
Congratulations to these businesses who are the most recent in being awarded a 5-hygiene rating, which is top of the scale.
• The Sugar Loaf, Market Harborough
• Bridge 61, Foxton
• Claires Café, Market Harborough
• Mediterranean Deli and Farm Shop, Wistow
• Kibworth Court
• Shoulder of Mutton, Foxton
• The George and Dragon, Broughton Astley
• The Crown, Gilmorton
• Progress House Day Nursery, Market Harborough
• AK's Macarons

You can view hygiene ratings for food businesses online.
You need to register your food business with us if you store, prepare, distribute or sell food on premises including restaurants, cafes, hotels, shops, canteens, market stalls, mobile catering vans and food delivery vans.
There is no fee for registering your business.

We support local businesses by providing information, and guidance to local business owners and entrepreneurs interested in investing in our district.
Find business rates information and ways to pay them. Register a food business, discover funding opportunities, view contracts and tender opportunities at the council and more.
Broughton Astley hosts Veterans Fair

The first-ever South Leicestershire Veterans Fair was hosted by Alberto Costa MP at Broughton Astley village hall on Friday 7 July 2023.

The event offered local veterans from across South Leicestershire an opportunity to drop-in and speak to representatives from a number of local/national organisations such as Help For Heroes, The Royal British Legion, the Veterans Wellbeing Hub, British Forces Resettlement Services, Job Centre Plus.

Representatives from both Blaby and Harborough District Councils also attended to share helpful information about the services councils can provide.
Cllr Jo Asher, Armed Forces Champion, and Harborough District Council officers
Contact us online
We have developed a range of online forms that Harborough residents can complete to request council services.
Completing an online form can be quicker than calling customer services and the forms can be accessed and submitted at any time, day or night!
Dates for your diary